One of the issues that most home owners are always facing is the low amount of space that can be dedicated only to storage in their homes.
Regardless if you live in a small flat or in a small apartment building or even in a normal family home, you won't escape from this issue.
In order to counter that, furniture stores and other stores have a lot of items that can you help you with the organization and storage issues you might be facing in your home, but 99% of the time it involves buying expensive and excessive storage items that you probably might not need and won't help you much.
But the internet is a great place to look for a lot of easy and cheap or even free, in some cases, ideas and tips about how you can solve your storage problems all by yourself without buying overpriced storage items.
And in order to help you with the storage problems in your house, we are going to begin with your shoes and footwear by showing you this collection of 33 Clever Ways To Store Your Shoes in which you will find a lot of useful shoe storage ideas.
Hopefully, with this collection we have given you a lot of cheap and easy solutions for your shoe storage problems in your home and you won't struggle to cross the room without stumbling upon a shoe or a high heel. Enjoy!
1. Store shoes underneath a bed skirt.
2. Hang molding on the walls to create a pretty shoe display.
You can find the tutorial here.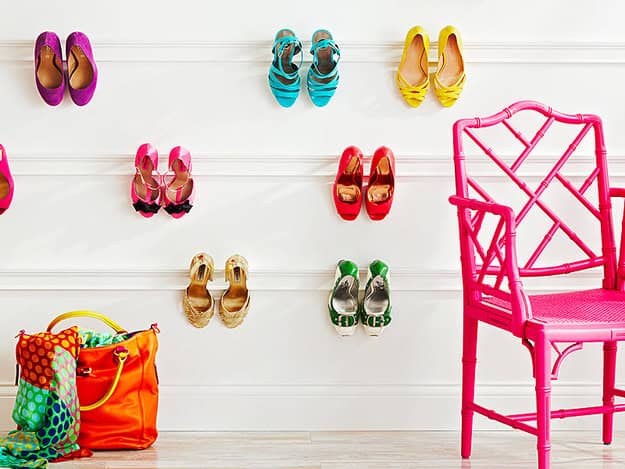 3. Hang molding near the ceiling of a closet for your non-seasonal shoes.
Source: alittlecleverandcatchy.blogspot.com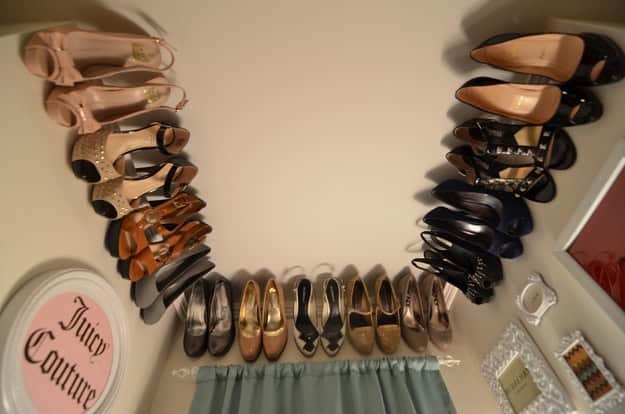 4. Cover a shoe rack with a curtain.
Source: thedemoiselle.com
5. Store them in an ottoman.
This is a great solution for a small apartment and costs only $190. You can buy it here: Safavieh Mercer Collection Victoria Beige Linen Shoe Ottoman
6. Repurpose old wine crates.
Source: whitehouseblackshutters.com
7. Store your shoes in shoeboxes with printed out Instagrams of your shoe collection.
Source: housetohome.co.uk
Source: closet-fever.blogspot.com
8. A simple wooden pallet has slits that perfectly fit shoes.
Source: shelterness.com
9. Use a pegged coat rack.
Source: mamauk.typepad.com
Source: hgtvremodels.com
Source: prettylittlethingsbyab.blogspot.com
10. Build your own PVC-pipe shoe rack.
See the tutorial here.
11. Use an old ladder to hang heeled shoes on.
Source: blog.thenest.com
12. Salvage some old school lockers for shoe storage in a boy's bedroom.
Source: apartmenttherapy.com
13. Keep shoes in buckets.
Source: sevencherubs.com
14. Store your shoes in wine boxes under the bed.
Source: threeyearsofdeath.blogspot.com
15. Hang your shoes.
Learn how to make these hangers here.
16. Stack 'em on the stairs.
Source: apartmenttherapy.com
17. Use recycling bins from Ikea to store shoes in an entryway.
They're only $13 apiece from Ikea.
18. Take up unused space by putting up shelves in the corner of the garage.
Source: designedtodwell.blogspot.com
19. Elastic shoe straps are a quirky and colorful way to hang your shoes on the wall.
Source: envishoes.com
20. Hide shoes under a slipcovered bench.
Source: gogingham.com
21. This Ikea Komplement slide-out rack holds an impressive 16 pairs of shoes.
Source: ikea.com
22. Use a large picture frame as a slide-out shoe drawer.
Source: justinetaylor.tumblr.com
23. Implement a slide-out shoe rack.
Possibly easier said than done, but if you're considering a remodel, it's certainly a clever idea.
Source:
hardcorerenos.com
24. Hang shoe organizers on a room divider or screen.
Source: huffingtonpost.com
25. Use towel rails to hold shoes.
Source: ikeafamilylive.com
26. Alternate your shoes — you'll be able to fit more in a row.
Source: pinterest.com
27. Display them in a large basket.
Source: shelterinteriordesign.blogspot.com
28. Make a floating shoe rack.
See the tutorial here.
29. Keep shoes in a dresser or cubby shelf at the foot of your bed.
Source: elledecor.com
Source: bhg.com
30. Strategically use tension rods in the bottom of a closet.
So brilliant.
Source:
3citygirlsnyc.wordpress.com
31. Throw them into rolling crates.
Source: marthastewart.com
32. Hang baby shoes on a curtain rod.
Get more details here.
33. Paint cans nailed into the wall are the perfect size for flip-flops.
Source: craftynester.com